Commissions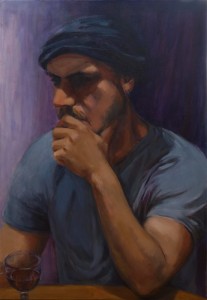 Louise Beck is first and foremost a portrait painter and much of her artistic output comprises commissions and figurative studies.  She welcomes any enquiries regarding portrait commissions of other specific enquiries.  Her work  – particularly her "skyscapes" – is also available for corporate rentals.
For further information regarding any of the above contact Louise on:  Mob  0414738788;     or  (02)  9818 2249   or   
louise.beck@bigpond.com
:
April,2010 :  Inspired by "Choppy Waters" viewed a t a recent exhibition, a client commissioned Louise to paint a ferry picture in the spirit of "Choppy Waters", entitled "Heading for High Waters".
2008/9:  Commissioned to paint the portrait of "Ray Hadley" – sports commentator and rugby great.
2008/9:  Commissioned to paint the portraits of the three Ella Brothers entitled  "Masters of Rugby".
2008:     Portrait of Lloyd McDermott – first Aboriginal barrister in Australia; first Aboriginal Wallaby.  Auctioned by the Lloyd McDermott Foundation for $5000.